"Red, green and yellow dots can be the circles representing the earth, the sun or the moon," says Kusama in her autobiography, "I paint polka dots on the bodies of people and with these polka dots the people will self-obliterate and return to the nature of the universe."
"I, Kusama, am the modern Alice in Wonderland."
Yayoi Kusama.
Alice in Wonderland Happening.
Central Park, New York. 1968.
Body paintings and orgies where part of her 60' happenings in New York. Her 'Love Forever' philosophy where a political reaction against the Vietnam War and all the oppressive powers.She invites us to an adventure from dots to universe, questioning the boundaries of the body and the self.


Midori: Where did you do your Happenings?
YAYOI: In front of the statue of Alice in Wonderland in Central Park, and on Wall Street, and in front of the Statue of Liberty. We also did our open protest against the Nixon Administration at the voting office and the anti-war performance in front of the UN. This is the dress made for the Love Orgy. It's one big dress for four people, with holes cut for sticking out heads and arms. I myself have never joined a sex orgy. I was afraid of venereal disease.
(...) Whole interview here
"She began issuing hundreds of press releases, and her performances became steadily wilder. In the first of her Anatomic Explosion series, Tomii and Karia write, "across from the New York Stock Exchange on Wall Street, four nude dancers gyrated to the rhythm of bongo drummers, while Kusama, accompanied by her lawyer, spray painted blue polka dots on their naked bodies." The police closed it down fast. A second such performance took place at the Statue of Liberty; a third one happened at the Alice in Wonderland statue in Central Park, with Kusama declaring that she was the "modern Alice in Wonderland." The performances came thick and fast after that. " Found
here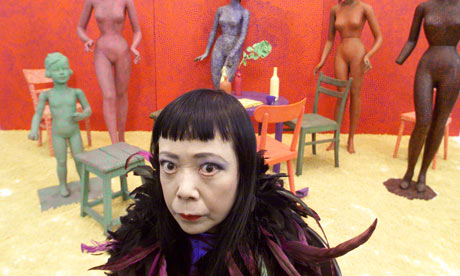 "
Since the late 1950s, Yayoi Kusama has used painting, performance, sculpture, and installation to develop a highly personal formal vocabulary that combines repetitive elements such as net and dot patterns with organic and often eroticized sculptural forms. Her early paintings and collages extend the language of Abstract Expressionism and its concern for allover compositions into an intimate form of gridded space.
By the early 1960s Kusama had begun to produce her Accumulations, everyday objects such as chairs, tables, and clothes densely covered with hand-sewn, phallic protrusions. Around the same time, Kusama began to paint net and dot patterns onto household items, and in 1965 she combined all these elements in the installation Infinity Mirror Room Phalli's Field (or Floor Show). In Infinity Mirror Room a dense field of polka-dotted phallic protrusions extended from the floor of an enclosed space. The walls of the environment were lined with mirrors, leaving only a small passageway into the center of the installation empty.
Infinity Mirror Room
, Rain in Early Spring (2002).
For the installation Kusama's Peep Show (1966), the artist constructed a room whose walls and ceiling were covered with mirrors, while the floor was densely filled with glowing electric lightbulbs in different colors. Two small windows allowed the viewer and Kusama to peerinside.
Continuing her obsessive, almost psychedelic approach, the installations suggest a kaleidoscopic mode of perception, in which interior rooms contain unbound, seemingly endless spaces. By the late 1960s, Kusama began to stage performances, sometimes covering her naked body, or others' bodies, with patterns.
In the early 1970s, Kusama returned to Tokyo; she voluntarily entered a clinic for the mentally ill, where she has remained ever since. She has continued to produce work at a prolific rate, remarkable in its consistency. Her obsessive arrangements, her often radically eroticized alterations of everyday objects, her fascination with infinity, and the all-encompassing nature of her work have remained at the core of her production.
In her most recent works Kusama continues to create reflective interior environments.
Fireflies on the Water
(2002) consists of a small room lined with mirrors on all sides, a pool in the center of the space, and 150 small lights hanging from the ceiling, creating a dazzling effect of direct and reflected light, emanating from both the mirrors and the water's surface. Fireflies embodies an almost hallucinatory approach to reality, while shifting the mood from her earlier, more unsettling installations toward a more ethereal, almost spiritual experience."
Fireflies on the Water (2002).
150 lights, mirrors and water.
"This is a monograph on the extraordinary 40 year career of Japanese sculptor and performance artist Yayoi Kusama, recently the subject of a major retrospective at New York's Museum of Modern Art, which toured the United States and Japan through 1999. In January-March 2000 the Serpentine Gallery, London will be presenting a large solo exhibition devoted to Kusama's work. Internationally noted for her soft sculptures an psychedelic installations, Kusama explores themes of love, infinity and obsession throughout her work, from her net-like pattern paintings begun in 1959, to her Pop-inspired love happenings in the 1960s, to installations in which every surface has been compulsively covered in polka-dots, mirrors or stuffed phallus-like protrusions. A visionary whose work is unique in the panorama of post-war art, Yayoi Kusama is known not only as an artist but also as a fashion-designer, poet and novelist - all documented in this comprehensive monograph." Found at
Amazon
\

"Yayoi Kusama (草間 彌生 or 草間 弥生 Kusama Yayoi?, born March 22, 1929 in Matsumoto, Nagano Prefecture) is a Japanese artist whose paintings, collages, soft sculptures, performance art and environmental installations all share an obsession w

ith repetition, pattern, and accumulation. (She has described herself as an "obsessive artist".)
Kusama's work is based in Conceptual art and shows some attributes of feminism, minimalism, surrealism, Art Brut, pop art, and abstract expressionism, and is infused with autobiographical, psychological, and sexual content. Kusama is also a published novelist and poet, and has created notable work in film and fashion design. She has long struggled with mental illness."
" (...) She went to the United States in 1957. Showed large paintings, soft sculptures, and environmental sculptures using mirrors and electric lights. In the latter 1960s, staged many happenings such as body painting festivals, fashion shows and anti-war demonstrations. Launched media-related activities such as film production and newspaper publication. In 1968, the film "Kusama's Self-Obliteration"which Kusama produced and starred in won a prize at the Fourth International Experimental Film Competition in Belgium and the Second Maryland Film Festival and the second prize at the Ann Arbor Film Festival. Held exhibitions and staged happenings also in various countries in Europe. (...)"

Found
HERE